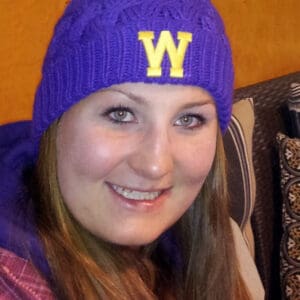 Veronika Weiss was born at Swedish Hospital in Seattle on February 24, 1995. Despite loving our cloudy, rainy weather, the Seahawks, Starbucks, and the Huskies, Veronika left for UC Santa Barbara in 2013 to pursue a degree in Math and Economics. Less than a year later, my bright, beautiful, independent niece was dead.
On May 23, 2014 – the Friday of Memorial Day weekend – Veronika and two sorority sisters were walking alongside the Alpha Phi sorority, heading back to their own house at about 9:15 PM. A man was pounding on the front door of Alpha Phi around the corner, trying to get inside to start his premeditated shooting rampage. When no one let him in, he got back in his car, drove around the block, and pulled up alongside and behind the three girls. He rolled down his passenger window, silently reached out and fired his handgun 15 times into the group of girls.
Katie and Veronika were shot five and seven times respectively, Bianca, three. To fire all 15 bullets took about 4-5 seconds. Katie and Veronika died almost instantly. Bianca, amazingly, survived. The shooter then made a u-turn and sped down to the main street in Isla Vista, driving and firing recklessly for several more minutes. He killed one more young man and injured another 14 students before taking his own life and crashing his car. Upon inspection, the police discovered three guns and nearly 400 more rounds of ammunition in the car. The shooter had planned to terrorize the entire community that night.
Veronika's parents first learned that something was wrong when they received a text from Veronika's sorority at about 11 PM that night. After bouncing between the hospital, the Sheriff's office, and the morgue and receiving very little information, Mom thought to turn on her "Find my iPhone" app. That's when they saw the blue pulse in the center of the crime scene. It wasn't until nearly sunrise that it was confirmed by the Sheriff that Veronika was indeed taken in the shooting.
Two months later, I joined a group of people delivering postcards to Senators Patty Murray and Maria Cantwell with the message NOT ONE MORE, a campaign that began at the UCSB memorial to remember the lives taken. That experience led me to the gun violence prevention movement and the Alliance for Gun Responsibility.
As Veronika's Aunt and as a retired teacher, I want to help make all of our neighborhoods safer from gun violence. I wish to speak for Veronika as she can no longer speak for herself. I will continue to honor Veronika's memory, and the memories of the more than 100 Americans killed by gun violence every day, with action, putting my pain into purpose.
---
–Jane Weiss is Veronika's Aunt, an Everytown Survivor Network Fellow and GVP advocate. She lives in Snohomish, WA.