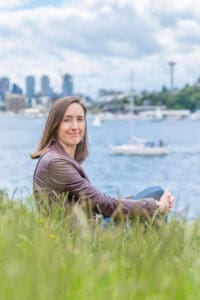 Having been in an abusive marriage for eight years, I know only too well that domestic violence and firearms are a deadly combination.
In fact, the presence of a gun in a domestic violence incident makes it five times more likely that a woman will die.
This statistic was not something I was aware of, when at one time during my marriage, my husband told me he wanted to apply to work for the police force.
"You know what that means?" he said, looking me right in the eye. "I'll have to keep a gun in the house."
I didn't need to know the statistics to be terrified and understand that my husband meant it as a threat. He meant that he'd have a gun and neither I, nor anyone else at that time, could do anything about it.
I left my abusive husband in 2010 with the help of LifeWire, a domestic violence nonprofit. But I will never forget the fear I felt at the thought of having a gun in the house. And the idea that, though my husband had hurt me before and I'd escaped with my life, I would not be able to escape that gun.
This is why I volunteer with organizations like the Alliance and LifeWire to prevent abusers from accessing deadly weapons and to help pass life-saving laws to keep guns out of the hands of domestic abusers, like HB 1840, which ensures that people subject to Domestic Violence Protection Orders and other protection orders surrender their firearms.
This law is already saving lives and I'll continue to work to strengthen it and others to offer more protections for survivors and disarm DV.
***
If you or someone you know is experiencing domestic abuse, contact the National Domestic Violence Hotline by calling 1-800-799-7233 or texting LOVEIS to 22522.
---
— Rebecca Houghton is a Seattle-based writer, domestic violence survivor, and volunteer with the Alliance, who also serves on the board of LifeWire. Find her at www.rebeccahoughtonwrites.com.