UPDATE: This weekend, our movement showed its strength! Communities across the country rallied in their finest orange attire to demand action to address gun violence. We organized marches and vigils, spoke up at sports games and community events, and we sent the message that enough is enough. 
We are leaving this #WearOrange weekend fired up and more grateful than ever for the commitment of supporters like you. We know the challenges ahead are immense and the stakes are as high as they can be. Over the weekend, seven different mass shootings left at least 11 people dead and 54 wounded. We can't afford to keep waiting for our elected leaders to catch up to the American people. We hope you'll stick with us in this fight and keep this amazing energy going through the election.
---
Wear Orange is an opportunity to show your support for gun violence prevention and bring others into the movement! This year it takes place Friday, June 3 – Sunday, June 5. There are many opportunities to show your support for this important weekend. Here's how:
Wear Orange, of course!
Print one of the signs at the bottom of this page and fill it in with a personalized message about why you #WearOrange. Ex: I #WearOrange because I believe that gun violence is preventable.
Take a photo of yourself and any family or household members in your finest orange attire with or without one of our #WearOrange signs.
Share the photo on social media with a sentence about why you #WearOrange. If you don't have social media, you can email a photo to

[email protected]

and we will share them from our accounts!
Use the hashtag #WearOrange and tag @wagunresponsib on Twitter or @AllianceforGunResponsibility on Facebook and Instagram.
After you've taken a photo, hang your #WearOrange sign in your window to help spread awareness about gun violence!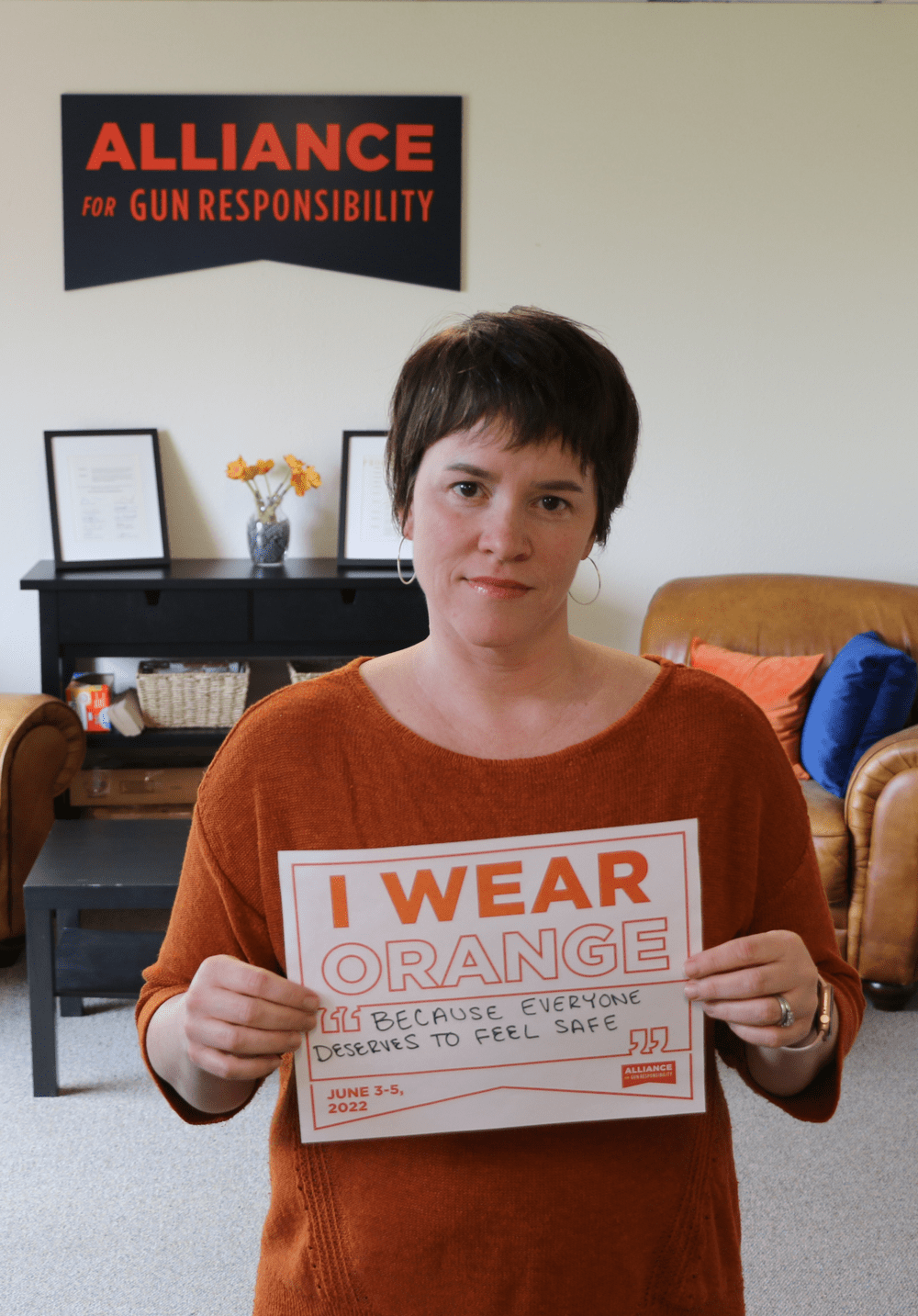 Take action!
The gun violence epidemic is growing more urgent by the day. There have been more than 200 mass shootings already in 2022. We have joined our partners across the country to demand that our elected leaders fulfill their promise to protect our communities from the scourge of gun violence.
Add your name here to demand federal action to save lives. >>
Donate!
We are working year-round to pass commonsense gun laws, elect gun responsibility champions, and prevent gun violence through research, education, and community outreach. If you want to show support for gun violence prevention, please fund our lifesaving work. Even $5 can make a difference!
About Wear Orange
Wear Orange was started in 2013 after 15-year-old Hadiya Pendleton was shot and killed in Chicago just one week after she performed at President Obama's second inauguration. After her death, her friends and family chose to wear orange on her birthday, June 2, to honor Hadiya and the tens of thousands of lives lost to gun violence every year. They chose orange because it was her favorite color and it is the color hunters wear to protect themselves from gunfire. Since then, the gun violence prevention movement has carried on their efforts by making orange its signature color and wearing orange the first weekend in June. Learn more at wearorange.org
#WearOrange signs
Other events:
Pride in the Park: June 4, Volunteer Park Seattle.
Know of other events happening during #WearOrange weekend? Email [email protected]!