June 19, 2023 Blog
Juneteenth | Featuring WA-Bloc
In their traditional greeting, Maasai warriors ask, "Kasserian Ingera?" meaning "And how are the children?" The desired response is "Sepati Ingera!", or "The children are well."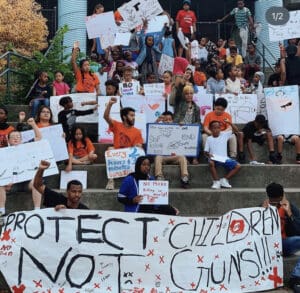 Since receiving the request to contribute to this blog a week or so ago, multiple young Black men under the age of 18 have lost their lives to gun violence in our south Seattle community. When we ask ourselves, our organization, our community, nation, and world this question that the Massai poses…the answer is not "Sepati Ingera!" The children are not well.
We are WA-BLOC, a grassroots organization rooted in south Seattle with a mission to build and nurture intergenerational leaders through transformative education and revolutionary social action. We want South Seattle to be an epicenter where Black and brown youth and families thrive, experience joy, and heal in community and schools. Our programming is designed to build strong, literate, and empowered scholars prepared to make a difference in themselves, their families, communities, nation and world. One of the ways we do this is through our Freedom Schools summer program, a five-week critical literacy and social action program that is inspired by the original Freedom Schools of 1964 as well as the Children's Defense Fund's models for youth learning and social action.
Freedom Schools is rooted in the history of Black liberation and Freedom Summer (Mississippi 1964) and movement to fight against the white supremacist state and terrorism in Mississippi and the deep south. In the present day, our Freedom Schools model continues to engage K-12th grade scholars through culturally responsive learning that is rooted in cultural histories representative of scholars and to collectively organize against violent and oppressive systems that continue to impact our community. Through powerful books and texts by BIPOC authors and taught by Black and brown college-aged leaders from our south Seattle neighborhood, scholars experience a safe, anti-racist, restorative, and joyful learning environment where they build language to identify themselves as well as systems and power structures around them. Staff works with scholars to identify issues that are important to them, and throughout the program, students develop social action projects to solve or mitigate these issues.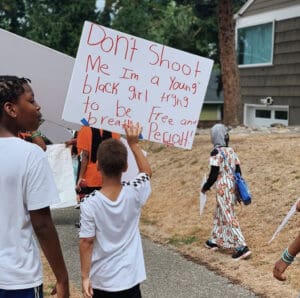 While previous years have seen scholars holding marches for transit justice, creating videos to spread awareness about campaigns for No New Youth Jail, creating a garden to tackle food insecurity– nearly EVERY year, scholars raise gun violence as an issue they want to speak out against.
Violence, particularly gun violence, continues to be insidiously woven into the fabric of our community and youths' experience and sense of safety (or lack thereof) in their schools and community.
Despite speeches and calls to policymakers for gun reform, increased culturally responsive mental health resources in schools, and funding for community safety and restorative justice initiatives, youth in our community are continually faced with the tragedy and grief of losing peers and loved ones to gun violence and regular school lockdowns. Before we're able to grieve and process one life, another one is taken. Every year, shots fire, community gathers, we celebrate life, we attempt to return to a sense of normalcy, and we face the devastating news of losing yet another. Every year.
For decades, we have failed to protect children, not guns— and youth of color, particularly Black youth, continue to face the greatest risk. "Kasserian Ingera?" Our children are not well– they are thinking about guns, when they will need to lock down or shelter in place in response to threats of an active shooter during the school day, or when they will receive a text or see a post on social media about a peer taken too soon. 
At WA-BLOC, we believe in a world where youth feel safe in their schools and communities, and where their rights to live, learn, and grow up safely are protected. "We gon' fight all day and night until we get it right. Which side are you on my people which side are you on? (I'm on the Freedom side)."
---
Get involved with WA-BLOC
Sign up for the
WA-BLOC newsletter
o
r
follow us on Instagram
to stay up to date on our work
and opportunities to collaborate with and support us! 
Become a monthly donor and/or contribute to our summer 2023 Freedom School
s
here
and help us continue providing this program free of cost for 60 K-12th grade scholars in the Rainier Beach neighborhood! 
For other information or inquiries, email us at [email protected].