November 14, 2019 Blog
Hate and Gun Violence Summit
Across the country and here in Washington state hate crimes are on the rise. From El Paso to Tree of Life to Pulse, we have become all too familiar with the deadly consequences of hate fueled by a gun. This year, the Alliance advocated for—and won—changes to Washington's hate crime laws that resulted in the removal of a cache of firearms from a Neo-Nazi. Read all about it here. 
With the threat of hate-based gun violence rising, the Alliance for Gun Responsibility Foundation and the Anti-Defamation League (ADL) co-hosted a summit this week addressing the intersection of hate and gun violence. 
Joanna Mendelson, Senior Investigative Researcher and Director of Special Projects with the ADL's Center on Extremism gave the keynote address. One of the biggest takeaways of her presentation: the vast majority of domestic terrorism murders in recent years have been carried out by right-wing extremists and guns are their weapon of choice.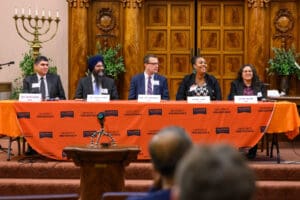 The summit featured three diverse panels, which tackled various strategies for addressing the intersection of hate and gun violence. Here's a breakdown of the panels and panelists: 
Creating space for everyone in the GVP movement: 
Moderator: Rabbi Daniel Weiner,

Temple De Hirsch Sinai

Esther Lucero,

Seattle Indian Health Board

King County Council Member Joe McDermott

Dr. Jasmit Singh,

Sikh Coalition

Rep. Javier Valdez (D-46)

Brandy Grant,

Alliance for Gun Responsibility Foundation 
Policy solutions: 
Moderator: Renée Hopkins,

Alliance for Gun Responsibility

Kim Wyatt,

Regional Domestic Violence Firearms Enforcement Unit

Erin Goodman,

Seattle Community Police Commission

Alina Santillan,

Seattle Center

Judge Anne Levinson,

former Seattle Municipal Court Judge
Program solutions: 
Moderator: Sean Goode,

Choose180

Miri Cypers,

Anti-Defamation League Pacific Northwest

Andrea Altheimer,

Community Passageways

Miguel Maestas,

El Centro De La Raza
We are so grateful to all the speakers and attendees for taking the time to commit to this difficult issue. And a special thank you to Temple De Hirsch Sinai for hosting the event and to Virginia Mason for generously providing lunch. 
---
— Dylan O'Connor is the Policy and Coalition Coordinator for the Alliance for Gun Responsibility