December 29, 2020 Blog
Governor Whitmer on Armed Extremism
The rise in armed extremism is one of the most troubling trends to emerge in 2020. Starting in response to COVID-19 restrictions and continuing through record protests against police brutality and a turbulent election, we saw guns being used to threaten, intimidate, or harm time and time again. 
No one was subject to more extreme armed protest than Michigan Governor Gretchen Whitmer. Because of her leadership in the face of the coronavirus, Governor Whitmer became the target of armed extremists and the president himself. She faced threats and intimidation just for doing her job and following the lead of public health experts. But through it all she remained an effective and courageous champion for the people of Michigan.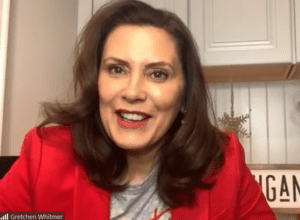 We were lucky to host Governor Whitmer for a virtual event in December to discuss the rise in armed extremism and commonsense limits on the open carry of firearms. She shared her experience with more than 50 attendees and outlined a variety of steps local leaders and community members can take to prevent gun violence and tamp down on extremists.
After Governor Whitmer spoke, we were joined by Igor Volsky, Executive Director of Guns Down America. Igor has done some of the best and most thorough work tracking the rise of armed extremism across the country. At the event, he gave an overview of how armed extremism was emboldened and changed under Trump. He also outlined emerging trends among armed groups, from the co-option of racial justice language to the popularity of 3D-printed firearms. 
Alliance CEO Renée Hopkins closed the event. She gave an overview of what Washington state has already done to address armed extremism—prohibiting ghost guns and 3D-printed guns and directing the use of Extreme Risk Protection Orders to disarm extremists planning violence—and outlined our specific plans to tackle this issue in the year ahead. (See those plans on our 2021 legislative agenda!)
A huge thank you to Governor Whitmer and Igor for sharing their expertise and to all of our attendees for participating in such an important conversation.
---
— Maureen McGregor is Communications and Fundraising Director at the Alliance for Gun Responsibility